Related Products
| | |
| --- | --- |
| | |
| ME20IA334 | ME20IA434 |
| | |
| --- | --- |
| | |
| ME20IA435 | ME20IA633 |
| | |
| --- | --- |
| | |
| ME20IA634 | ME20IA934m |
Product Overview
Inspired by natural flowers, plain colors, fresh shapes

It also called recycled glass mosaic,fullbody mosaic,enamel mosaic

The matte red is the true reflection of nature, and the comfortable feeling is refreshing.
Product Description
This Stable recycle glass mosaic living room wall tile made of glass powder as the main raw material. Inspired by the designer's inspiration, unique creation, black background with silver inlay, luxury has connotation.
They are excellent environmental protection materials and are resistant to acids, alkalis and chemicals. Use anywhere is ok.
| | |
| --- | --- |
| Product Code | ME20IA934m |
| Price | $17.5 /Pcs |
| Chip size | 3d ladder flower 24x47x20x6 mm |
| Sheet size | 253x298 mm |
| Thickness | 6mm |
| Color Family | Red |
| Tile Material | Recycle Glass Powder |
| Tile Use | Indoor and Outdoor |
| Tile Features | Low water absorption, Anti-acid, Anti- alkali, Frost Resistant, |
| Package | 11 PCS/CTN, 0.83 SQM/CTN, 9.04 KGS/CTN |
| Production Date | Around 30 days |
Product Feature
1. The Stable recycle glass mosaic living room wall tile have features what glass mosaic has, such as zero water absorption, anti-acid, anti-alkali, chemical resistance and color never fade.
2. With the smallest decoration materials, there are many possibilities for combination changes: figurative patterns, deep color jumps or transitions in the same color, or pattern decoration for other decorative materials such as big size tiles.
3. Stable recycle glass mosaic living room wall tile have 3D modeling is very unique, we follow the trend of the modern, design a distinctive pattern, easy to install and clean, very convenient
4. Flexible shapes and color, Stable recycle glass mosaic living room wall tile can be made into different shapes. Also it can make glossy,matte,iridescent,engraving,inkject surface effect.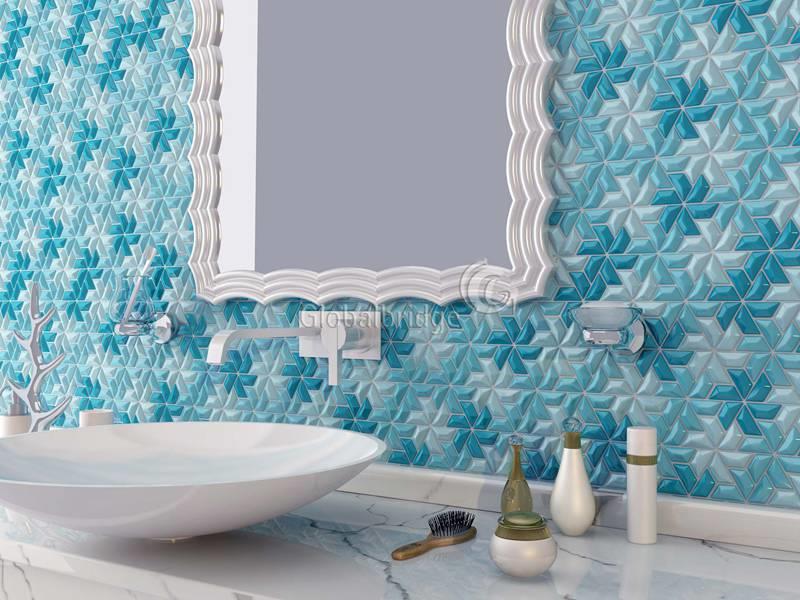 About us
We established in 2006, have a modern showroom and office building of 4200 Square meters. We have 12 years' experience in mosaic industry and a sales team of 17 persons with working year from 1 to 15 years.
Our customers see us as their solution provider and we have already successfully co-operated with nearly 3 hundred clients and some of them became our sole distributors and partners.
Our mission is to help our clients growing business. Hope we have the opportunity to cooperate and be a win-win partner.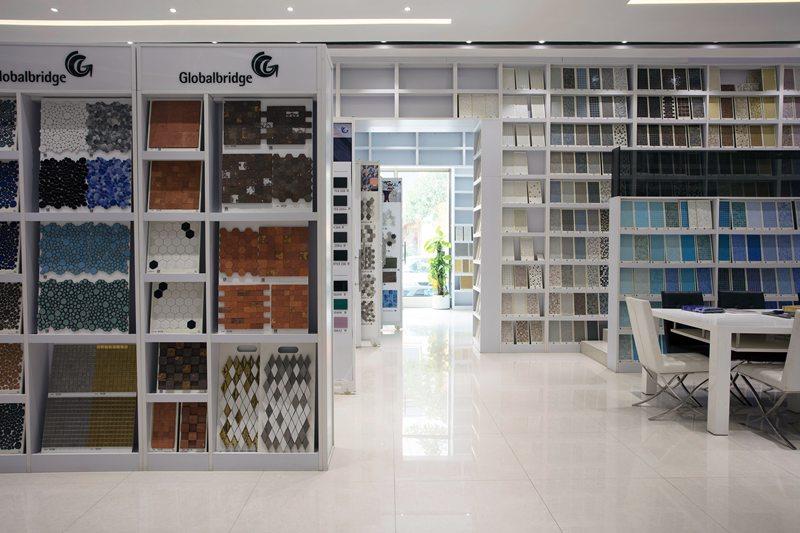 Quality Control
We have a professional quality testing team, and team members have an average of 5-10 years of work experience, they will do the best testing for your products. At the same time, we have a three-year warranty service. From production to packaging to delivery, we have dedicated personnel to track goods and provide you with accurate shipping information.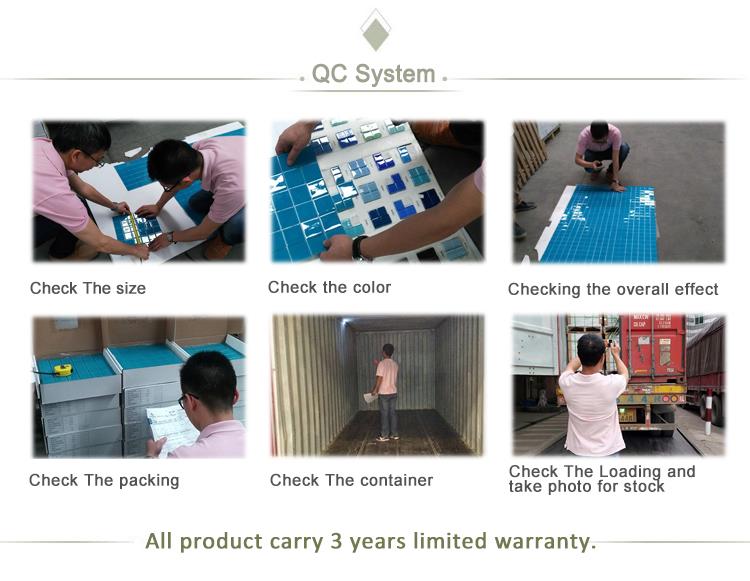 Hot Tags: stable recycle glass mosaic living room wall tile, China, manufacturers, supplies, factory, wholesale, price, for sale