◆ Bring the natural beauty of the ocean into your home.
◆ Mother of pearl tile brings a beautiful shimmer to any room.
◆ Abrasion resistance level suitable for wall and backsplash use only.

 Product Code

 PNYC101

 Price(For Retail)

 $ 40 / Pcs

 Chip size

 15X30 x2 mm

 Sheet size

 300x300  mm

 Thickness

 2 mm

 Color Family

 White

 Tile Material

 Sea Shell

 Commercial/Residential

 Commercial/Residential

 Tile Use

 Indoor and Outdoor

 Tile Features

 Low water absorption, Anti-acid, Anti- alkali, Frost Resistant

 Package

25 PCS/CTN, 2.25 SQM/CTN, 15 KGS/CTN

 Production Date

 Around 30 days

 Application

 Terms & Conditions

 

Click for more

 Warranty

 

Click for more




1. Mother of Pearl Mosaic Tile Backsplash Made of genuine natural mother of pearls, 100% eco-friendly material, water and fire proof, no radiation, no pollution, no color fading. Luxury tile with natural pearl luster. 
2. Mother of Pearl will add just the right touch of elegance to transform any bathroom to a luxurious spa-like experience with ease and is also the ideal choice for your next backsplash or accent wall project.
3. Mother of Pearl Mosaic Tile Backsplash mixing different colors to create a natural pattern, easy to install and clean, very convenient.
4. Mother of Pearl Mosaic Tile Backsplash great for accenting a primary color, or as an entire accent wall. Great for spaces like kitchen backsplashes, shower walls, and fireplace wall facades.
5. Application: Mainly used as wall tile in private project and commercial projects, such as bathroom wall tile, kitchen back splash tile, living room, dining room wall, TV setting wall, furniture surface, column surround, hotel, villa, night club, jewelry store, coffee shop, etc. 
6. Important Notes: Mother of pearl tile is a natural and handcrafted products, we can't guarantee that each tile comes with the same pattern and perfect. It is reasonable that several chips fall off through transportation, they are easy to reset. If it is not acceptable for you, please do not buy.
Pearl shell mosaic is natural, environmentally friendly, non-radiative, and has a very high quality stability. It is the latest environmentally friendly decorative material.
Generally, shells are divided into two types: hard shells and soft shells. What we routinely do is hard shell, which is divided into: oil flower, natural color, bleaching, and dyeing. The above sorting is also a sort of prices from low to high. The most expensive price is imported shell.
Compared with ordinary shells, imported shells have more textures and various illusion effects. Different colors are different in different angles, and ordinary shells are more monotonous. The purer the shell color, the higher the price.
Ordinary Pearl shells are collected from artificially farmed lakes, and choose good-looking shells as alternative materials.
Raw materials usually bring some sand and need to wash them with water.
Raw Pearl shell will be cut into slice for desired strips and subdivide into granules. This process requires skilled workers to operate in order to cut the sheet accurately. Each shell can only take up to 3-4 strips.
Due to the different thickness of the shell, the mosaic needs to have a regular shell thickness, so a smoothing process is required.
The polished shell reveals the color and texture inside the shell, which needs to be sorted to meet different customer needs.

Foshan Global Bridge Building Materials Co.,Ltd. is a company helping our clients to grow business by designing, sourcing and delivery mosaic products. We established in 2006, have a modern showroom and office building of 4 thousand 2 hundred Square meters. We have 12 years' experience in mosaic industry and a sales team of 17 persons with working year from 1 to 15 years. Our services provide exceptional value by the quality and innovation on time. Our customers see us as their solution provider and we have already successfully cooperating with nearly 3 hundred clients and some of them became our sole distributors and partners.

In terms of our history, we are an innovative mosaic company specializing in mosaic wholesale and project for 12 years. Today Global Bridge provides a vast array of products, designs, consulting and technical information for the benefit of our customers.

Our mission is to help our clients growing business. Hope we have the opportunity to cooperate and be a win-win partner. 

You are assured of receiving the goods in perfect condition because of our excellent packing and rich experiences in loading. We will find the most suitable transportation solution for you. Not matter port to port, port to door or door to door transportation, we can provide for you.

Before order, you can get approximate shipping time from China Foshan Port to different countries from the picture. You can also check with our sales person. You are assured of receiving the goods in perfect condition because of our excellent packing and rich experiences in loading.


The customer will be informed of the Product Quality, Packaging, Loading and Other Information through the photo before delivery.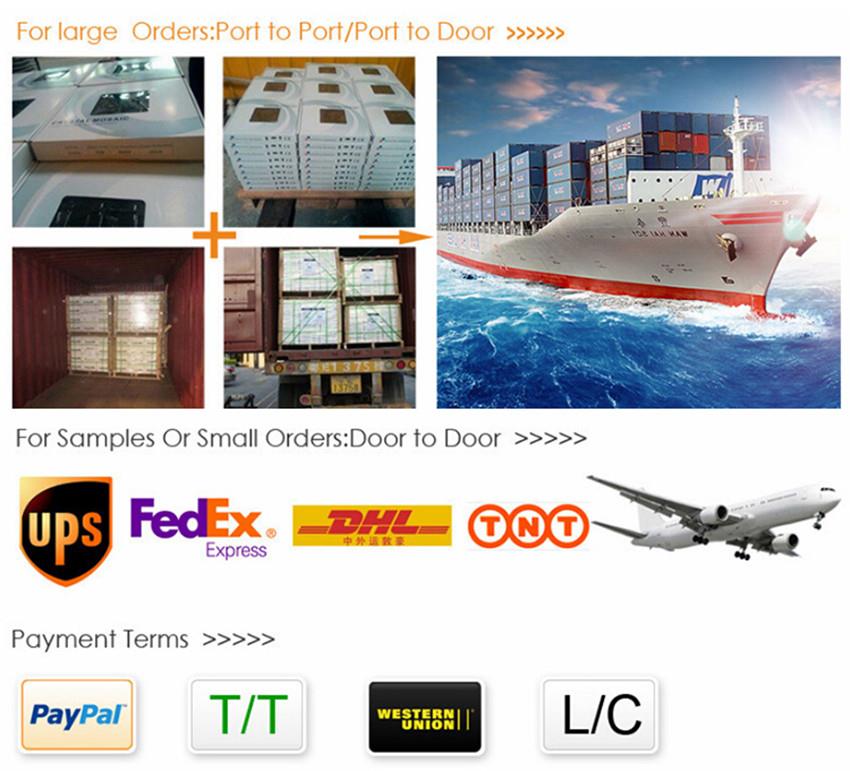 Above are the installation steps of mosaic in mesh mounted. We have the mosaic full instruction paper for our customers. For mosaic pattern, we stick small label on each sheet indicating the sequence by number and direction by arrow. For each design, we will provide fixing plan by both printing into paper and sending E-copy by email. If there are still problems, you can contact our sales for further information.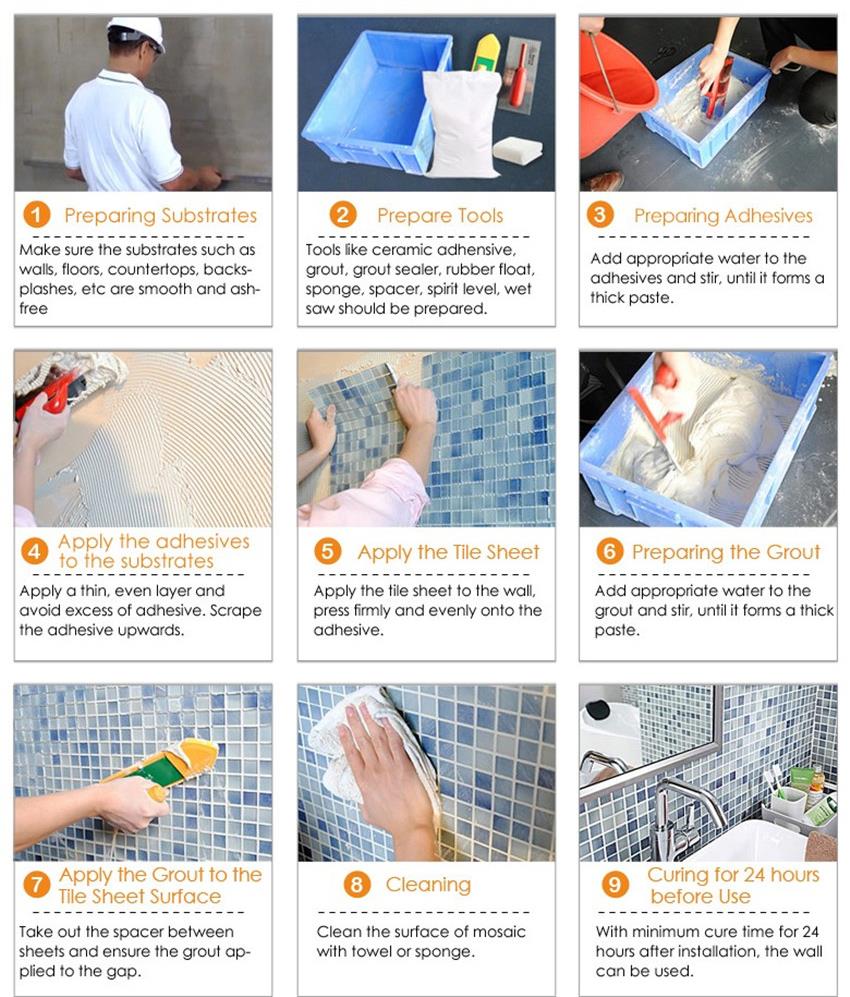 Q: How can I get the latest news from your company?
A: you can follow our SNS account called Global Bridge Building Material Co.Ltd to get the latest news.
Q: What are your payment terms?
A: For first cooperation, we accept 30% deposit and 70% before delivery and 100% deposit for amount less than USD5000. We also accept LC at sight for amount reach to USD20000. And we are also providing more flexible payment terms for regular client such as DP, Payment against copy of BL, or even OA payment.
Q: I got better price for similar product, can you work on the same price? 
A: We are happy to offer better price for a bigger order. But if other suppliers offer the same product and same service as we do, then they will charge the same price as us. It's customer's willing to pay less first then pay more or pay more first then no trouble behind.
Q: Can I send my QC to do the inspection?
A: Yes, Global Bridge welcomes customer's inspection. We will inform you the delivery time and the best time for inspection, so you could arrange the inspection accordingly.
Q: How could I inspect the products?
A: We have our QC teams and they will take the inspection pictures for customers' confirmation before delivery. You can also send your QC for inspection before delivery. We will inform you the delivery time and the best time for inspection, so you could arrange the inspection accordingly.
Q: Do you provide products guarantee?
A: We believe the pre-assurance for the right products is more important than the compensation. We have lots of procedures to make sure our customers no need to complain us. But if we made mistakes, customer will get full return on the money they paid. 
Q: How can I get a Global Bridge catalogue.
A: Please contact us by email and let us know which materials of mosaic you would like. And we have different catalogues for different materials of mosaic. We also have an up to date catalogue every time we launch new products. We would like to know more about your request. You can also browse our website www.gbmosaic.com to have an idea about our various mosaic products. 
Q: How long you can deliver?
A: Our products were produced by orders instead of stock. The delivery time is based on the ordered goods and the quantity. Factory has regular stock of loose tile for around 1000 items. The mounting capacity is around 6000 sqm.per day, so if stock is enough then products will be finished in 7 days. If not enough stock, products will be finished in 30 days.
Q: How is your delivery date?
A: It depends on the order quantity and how many items you ordered. Usually delivery date is about 25-30 days. For some handmade products, delivery date will be longer. 40-50 days.
Q: If I change mind before the delivery, can I cancel the order?
A: Our products were produced by orders instead of stock. That means each order is individual order and when it's a personal mix that it's impossible to sell to other customers. We keep our promise to produce on time and hope our customer also keep the promise.
Q: What's the MOQ for the products?
A: We provide the most flexible order requirement for our customers. Provided stock available, we can accept minimum 1 carton order. But be noted small quantity will lead to higher transportation cost.
Q: Do you provide DIY service?
A: Sure, our website is providing mixing app for customers choose whatever they want. And we also provide design service for project.
Q: Can I have the custom mosaic pattern?
A: Yes, please feel free to send us the photo that you want to make the pattern, then we will make a design draft for you.
Q: Can you send samples to me? Are they for free?
A: Yes, we always offer samples free of charge but only small pieces. However, the courier cost will be on your care. You can appoint your courier company to pick up the samples or we will check the freight cost and you pay to us. Then we arrange here.
Q: What if the tiles are broken during transition?
A: We have done overseas transportation for 15 years and we know exactly how to pack and reinforce the package away from damage. It's not usual to break unless there is accident. If any damage happens, our after-sales will sort out the reasons and ensure you a proper compensation.
Q: Why should I choose your company?
A: Because we are sure we can help to grow your business. We are in this industry for more than 15 years we know the mosaic standard and are aware 
Hot Tags: mother of pearl mosaic tile backsplash, China, manufacturers, supplies, factory, wholesale, price, for sale