Product Overview

Bring the natural beauty of the ocean into your home.

Mother of pearl tile brings a beautiful shimmer to any room.

Abrasion resistance level suitable for wall and backsplash use only.
Product Description
White Mother of Pearl Mosaic Tiles is presented in an artfully arranged classic brick pattern that will add an iridescent luminosity to your backsplash or bathroom for many years to come. Durable and resistant to moisture, the perfect combination of durable and practical, waterproof and anti-fouling easy to install. Premium quality genuine mother of pearl tiles (MOP shell), 100% natural material.
| | |
| --- | --- |
| Product Code | PJA101 |
| Price | $ 20 / Pcs |
| Chip size | 20X20x2 mm |
| Sheet size | 300x300  mm |
| Thickness | 2 mm |
| Color Family | White |
| Tile Material | Sea Shell |
| Tile Use | Indoor  |
| Tile Features | Low water absorption, Anti-acid, Anti- alkali, Frost Resistant, |
| Package | 25 PCS/CTN, 2.33 SQM/CTN, 8.7 KGS/CTN |
| Production Date | Around 30 days |
Product Feature
1. White Mother of Pearl Mosaic Tiles Made of genuine natural mother of pearls, 100% eco-friendly material, water and fire proof, no radiation, no pollution, no color fading. Luxury tile with natural pearl luster. 
2. White Mother of Pearl Mosaic Tiles will add just the right touch of elegance to transform any bathroom to a luxurious spa-like experience with ease and is also the ideal choice for your next backsplash or accent wall project.
3. White Mother of Pearl Mosaic Tiles mixing different colors to create a natural pattern, easy to install and clean, very convenient.
4. White Mother of Pearl Mosaic Tiles great for accenting a primary color, or as an entire accent wall. Great for spaces like kitchen backsplashes, shower walls, and fireplace wall facades.
5. Application: Mainly used as wall tile in private project and commercial projects, such as bathroom wall tile, kitchen back splash tile, living room, dining room wall, TV setting wall, furniture surface, column surround, hotel, villa, night club, jewelry store, coffee shop, etc. 
6. Important Notes: Mother of pearl tile is a natural and handcrafted products, we can't guarantee that each tile comes with the same pattern and perfect. It is reasonable that several chips fall off through transportation, they are easy to reset. If it is not acceptable for you, please do not buy.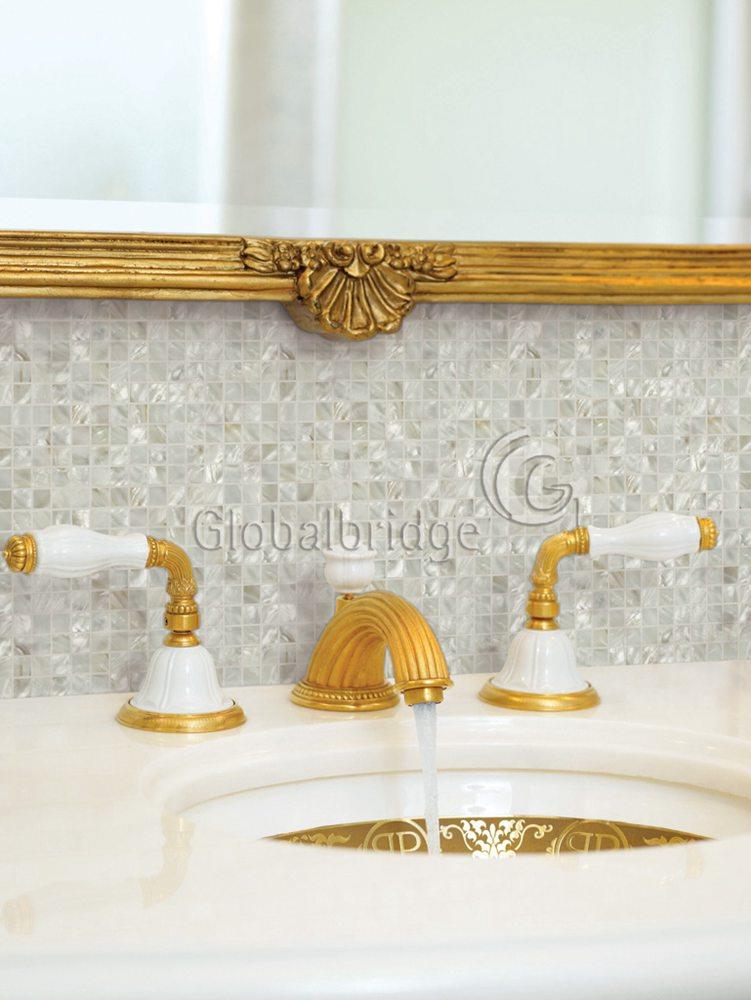 Pearl shell mosaic is natural, environmentally friendly, non-radiative, and has a very high quality stability. It is the latest environmentally friendly decorative material.
Generally, shells are divided into two types: hard shells and soft shells. What we routinely do is hard shell, which is divided into: oil flower, natural color, bleaching, and dyeing. The above sorting is also a sort of prices from low to high. The most expensive price is imported shell.
Compared with ordinary shells, imported shells have more textures and various illusion effects. Different colors are different in different angles, and ordinary shells are more monotonous. The purer the shell color, the higher the price.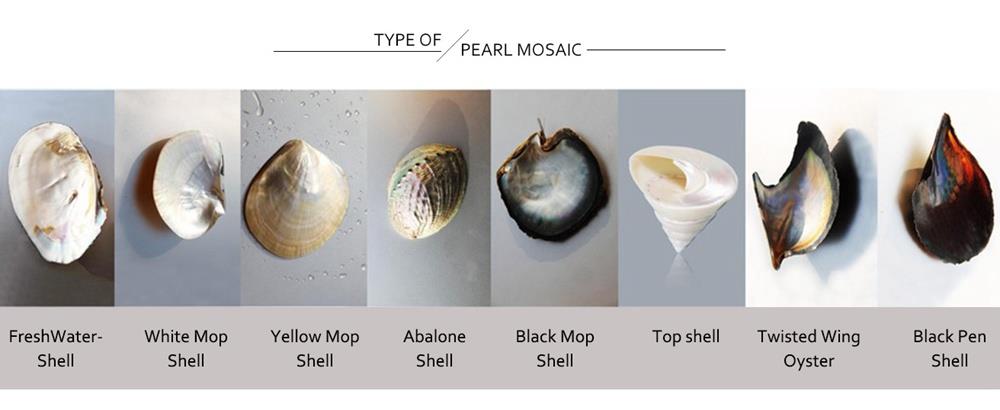 Installation and maintenance of shell mosaic
Low water absorption, which is the guarantee of durable mosaic elements, so the water absorption is very important in the mosaic field , Pearl mosaic has become the dominant position amount the mosaic products, it will replace the traditional mosaic items in the future people have a large number of widely used shell mosaic, will become inevitable.
Natural shell mosaic construction skills and maintenance methods
1. The surface which will be paved for shell mosaic should be strong, without oil and wax. Surfaces that have used should be promoted, exposing at least 80% of the original surface.
2. In order to avoid the scrape of the shell mosaic, the shell mosaic cannot be rubbed with dust and debris.
3. Paving material is better to use tile viscose powder or marble viscose powder, viscose powder color should be white, use other materials of other colors will affect the color of shell mosaic.
4. When the mosaic must be cut, use a high-quality diamond glass cutter to cut it on the glass surface.
5. When drilling holes in shell mosaics, special drilling tools should be used. When drilling holes, water must be added for cooling.
6. In order to maintain the gloss of the shell mosaic, can not use abrasive cleaners, wire brushes and sandpaper for cleaning, you can use the home to clean the windows to clean.
When shell mosaics are installed, they can be pasted like other types of mosaics (glass, stone, etc.). Paste with a mixture of white cement and glue, or directly with a ceramic adhesive, etc., then wipe clean.
About us
Foshan Global Bridge Building Materials Co., Ltd. is a mosaic tile company helping our clients to grow business by designing, sourcing delivery mosaic products.
We established in 2006, have a modern showroom and office building of 4 thousand 2 hundred Square meters.
Our customers see us as their solution provider and we have already successfully co-operated with nearly 300 clients and some of them became our sole distributors and partners.
Our mission is to help our clients growing business. Hope we have the opportunity to cooperate and be a win-win partner.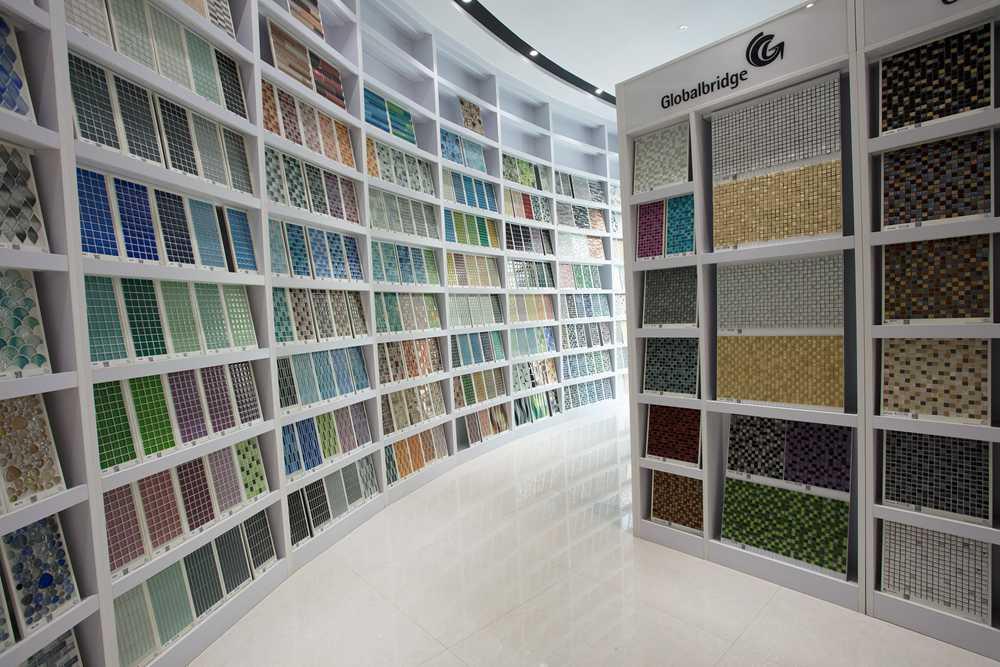 Hot Tags: white mother of pearl mosaic tiles, China, manufacturers, supplies, factory, wholesale, price, for sale