◆ Penny round bronze metal mosaic tiles are of eye-catching penny round design. 
◆ Perfect for vintage kitchen backsplashes or bathroom accents. And they create a contemporary look to your house.
◆ Unique, stunning, contemporary look, this clean geometric design with bronze is chic and visually striking. 

This penny round bronze metal mosaic tiles create a combination that stands out anywhere. The bronze mosaic features classic and antique look in round shape, that can add dimension to your bathroom, or create a show-stopping backsplash in your kitchen. Penny Round Bronze Metal Mosaic Tiles is a great choice to use for in a kitchen backsplash, living room wall or as decorative borders. Please note this tile is not recommended to be installed on the floor. Each lot of metal is unique and slight variations may be present. Metal mosaics are not recommended for showers or floors.
 Product Code

 

BZD20

 Price(For Retail)
 $ 32.5 / Pcs
 If you need distributor price please kindly contact us

 Chip size

 

Round 20x8mm

 Sheet size

 

294 x 316 mm

 Thickness

 

8 mm

 Color Family

 Copper

 Tile Material

 Bronze

 Commercial/Residential

 Commercial/Residential

 Tile Use

 Indoor and Outdoor

 Tile Features

 Frost resistant, Staining Resistant, Chemical Resistant

 Package

 11 PCS/CTN, 1.02 SQM/CTN, 11.65KGS/CTN

 Production Date

 Around 30 days

 Application

 Terms & Conditions

 Click for more

 Warranty

 Click for more

1. This penny round metal mosaic wall tile features a striking, unglazed sheen for an easy complement to any decor. The tile is suitable for use primarily on interior walls, such as kitchen backsplashes or on counters.
2. You can easily incorporate accent pieces and decorative border tiles into the design for a customized look to suit your space. Suitable for both floor and wall applications.
3. To help maintain a clean, beautiful surface, clean with a wet cloth. It is not recommended to install in place over acid or alkaline, underwater and heavy load.
4. Glazed smooth copper brown finish with some random shade and tone variation.
5. This penny round metal mosaic wall tile add a vintage feeling to any room.

With the continuous development of social culture, stainless steel mosaic decoration has become a trend, luxury and bright colors, smooth and exquisite texture, only the material selection is more elegant, and the pattern style is more fashionable and diverse.

Simplicity is a simple, stylish decoration style. Complex shapes are no longer popular, and simplicity can also show luxury. Our stainless steel mosaics are guided by the trend of international art design, combining the luxurious European style with the modern simplicity, combined with a unique surface effect, which makes the simple wall bloom with luxurious beauty.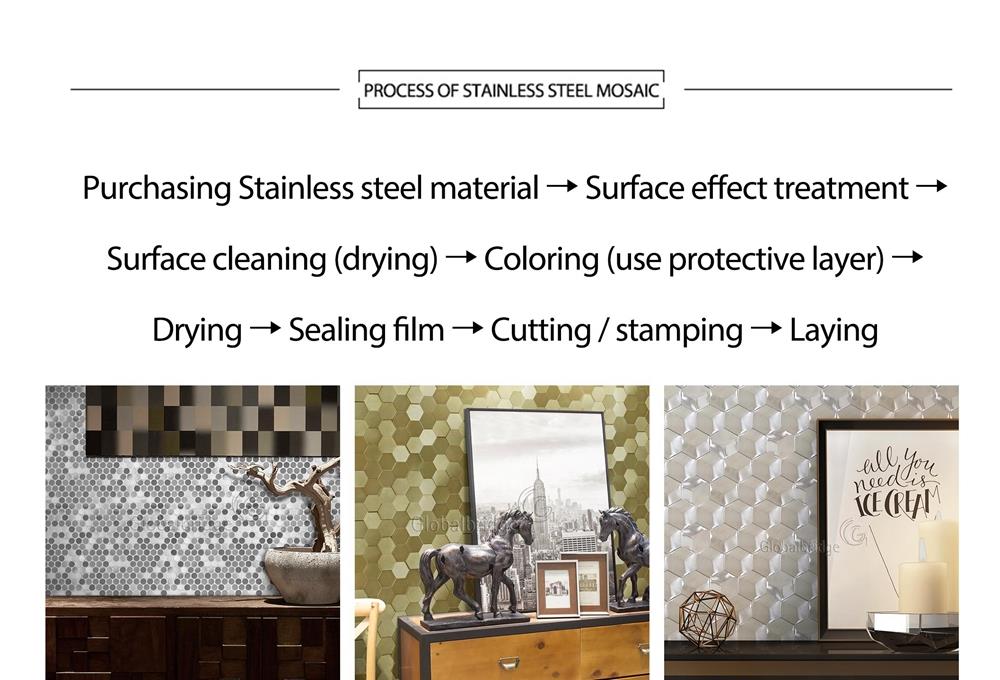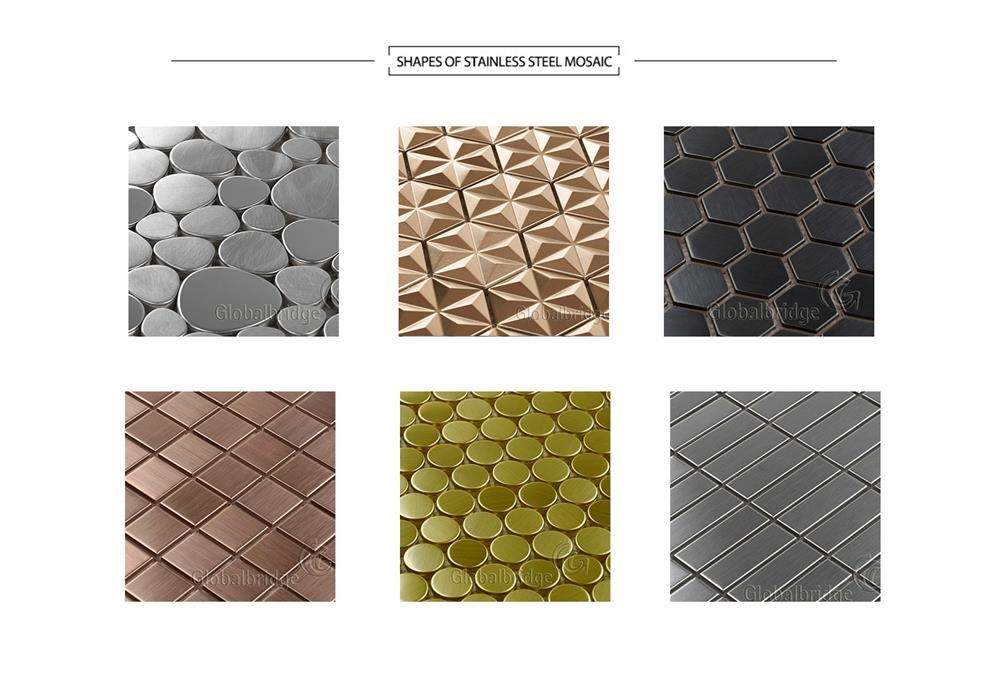 ◆ Foshan Global Bridge Building Materials Co.,Ltd is an expert company focus on exportation of building products. The whole range covers multiple of decorative building materials, including glass mosaic, crystal glass mosaic, marble stone mosaic, engineered stone, quartz stone, crystallized glass panel and faucet. The products have been well received in America, Europe, the Middle East and the Asia market. 
◆ Developed since year 2000, the company owes a big group of oversea customers. In 6th June,2006, company established the new brand image- Globalbridge. In the same time, company redefined the concept of service, which is presenting the Globalbridge's superior service system along with the supply of products. The service system including: Rich and qualified product source; Fully strict quality control; Good communication skills;Professional experience with honesty and excellent reputation.      
◆ We believe that once customer contact with Globalbridge, they will truly feel the honest service of Globalbridge from outside to inside. 
◆ We are highly expecting the enquiry from clients by phone or emails.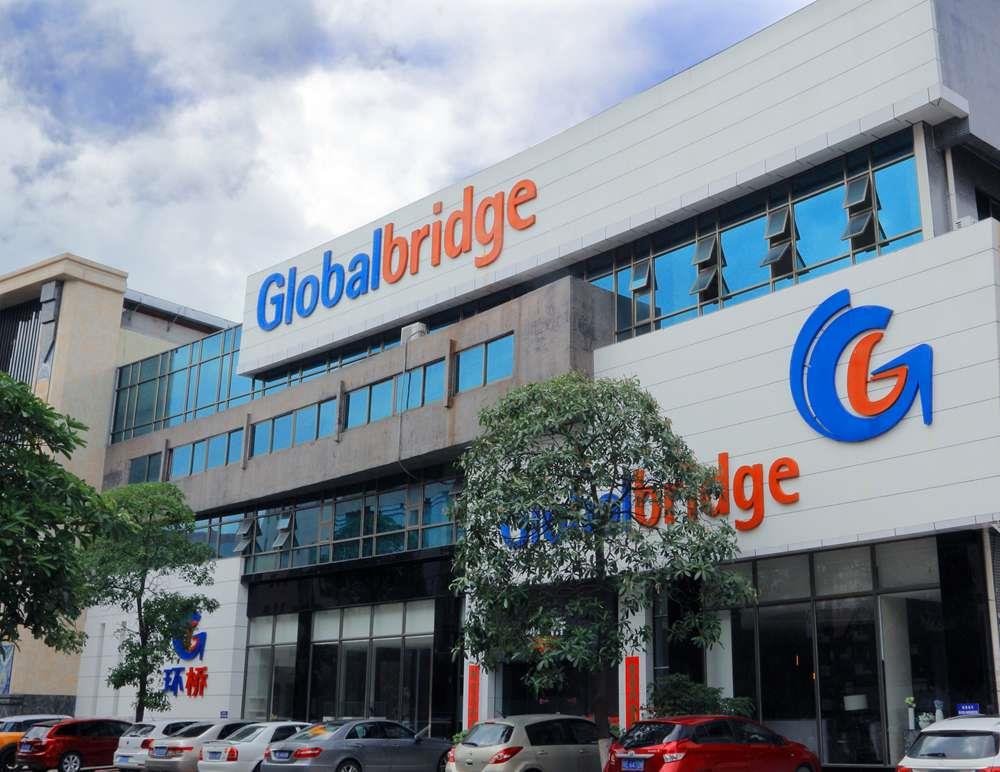 We have a professional quality inspection team. The average team work experience is 5-8 years. We have one-on-one service to protect your products. We will check the goods before shipment, including color, size and thickness.  overall appearance, packaging and other aspects of measurement. We have professional measuring tools, and our measurement team has more than five years of work experience. Before each product packing and shipping, we will carry out strict quality control, in order to make every detail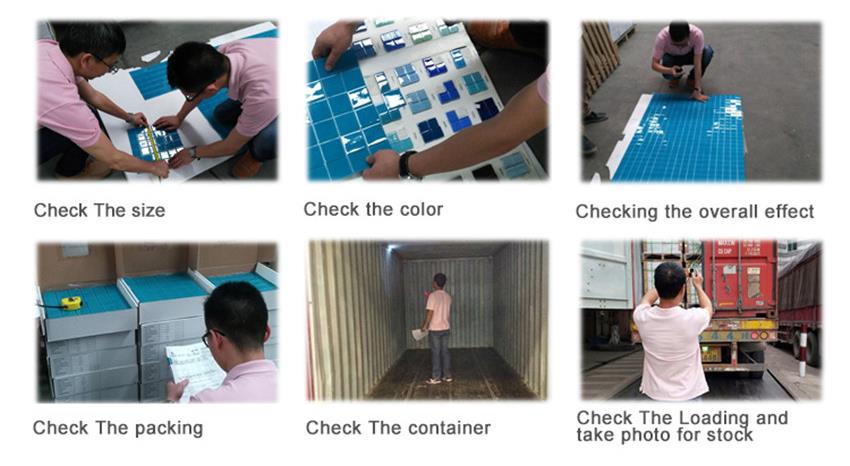 Construction process of stainless steel mosaic
With the metallic luster and texture, the avant-garde personality, the stainless steel mosaic material gives a clean and concise visual experience, and also has a strange and gorgeous feeling. Nowadays, most people choose stainless steel mosaic tiles, which are decorative materials that are used more on the ground and wall decoration. The size of the stainless steel mosaic is also a lot of color and shapes, we choose the appropriate size of the metal mosaic according to different needs.
1. Ensure that the stainless steel grain direction is correct. Otherwise the metal mosaic will exhibit a difference in refraction.
2. The installation must be clean and level.
3. Apply the adhesive with a straight edge gray knife. It is best not to exceed 15 square feet at a time.
4. Wipe the adhesive with a toothed ash knife. Press down so that the teeth touch the mounting surface to ensure uniform thickness of the adhesive.
Detailed explanation of the construction process of metal mosaic
5. Allow the stainless steel mosaic to adhere to the mounting surface for 24 hours.
6. Curing with a professional caulk for 15 minutes.
7. Clean the stainless steel mosaic and remove the stains.
8. Spray a thin transparent varnish on the stainless steel mosaic surface (available at all building hardware stores).

◆  We encourage customers to purchase sample tiles before making their complete purchase to give a true, accurate and clear appraisal of the product and its suitability for its installation. Either pay for a full size piece or choose free cut pieces, which are limited to three pieces per order. Please remember shades and calibration of mosaic tiles differ especially with natural products, so before fixing ensure you are entirely happy with the product as any claims once the product has been fixed will not be considered. Any purchases of samples are also governed under these terms and conditions.

◆ Our order process allows you to check and amend any errors before submitting your order to us. Please take the time to read and check your order at each page of the order process..For the order process, please click on: www.gb-mosaic.com/how-to-order
◆ If we are unable to supply you with a product, for example because that product is no longer available, or because of an error in the price on the Website, or we are unable to obtain authorisation or verify your payment, or where you do not accept our terms, we will inform you of this by email or telephone and we will not process your order. If you have already paid for the products we will refund you the full amount as soon as possible and in any event within 14 days.
◆ If you have any questions about your order at any time, please contact us by email or phone.

Q: How can I get the latest news from your company?
A: you can follow our SNS account called Global Bridge Building Material Co.Ltd to get the latest news.
Q: What are your payment terms?
A: For first cooperation, we accept 30% deposit and 70% before delivery and 100% deposit for amount less than USD5000. We also accept LC at sight for amount reach to USD20000. And we are also providing more flexible payment terms for regular client such as DP, Payment against copy of BL, or even OA payment.
Q: I got better price for similar product, can you work on the same price? 
A: We are happy to offer better price for a bigger order. But if other suppliers offer the same product and same service as we do, then they will charge the same price as us. It's customer's willing to pay less first then pay more or pay more first then no trouble behind.
Q: Can I send my QC to do the inspection?
A: Yes, Global Bridge welcomes customer's inspection. We will inform you the delivery time and the best time for inspection, so you could arrange the inspection accordingly.
Q: How could I inspect the products?
A: We have our QC teams and they will take the inspection pictures for customers' confirmation before delivery. You can also send your QC for inspection before delivery. We will inform you the delivery time and the best time for inspection, so you could arrange the inspection accordingly.
Q: Do you provide products guarantee?
A: We believe the pre-assurance for the right products is more important than the compensation. We have lots of procedures to make sure our customers no need to complain us. But if we made mistakes, customer will get full return on the money they paid. 
Q: How can I get a Global Bridge catalogue.
A: Please contact us by email and let us know which materials of mosaic you would like. And we have different catalogues for different materials of mosaic. We also have an up to date catalogue every time we launch new products. We would like to know more about your request. You can also browse our website www.gbmosaic.com to have an idea about our various mosaic products. 
Q: How long you can deliver?
A: Our products were produced by orders instead of stock. The delivery time is based on the ordered goods and the quantity. Factory has regular stock of loose tile for around 1000 items. The mounting capacity is around 6000 sqm.per day, so if stock is enough then products will be finished in 7 days. If not enough stock, products will be finished in 30 days.
Q: How is your delivery date?
A: It depends on the order quantity and how many items you ordered. Usually delivery date is about 25-30 days. For some handmade products, delivery date will be longer. 40-50 days.
Q: If I change mind before the delivery, can I cancel the order?
A: Our products were produced by orders instead of stock. That means each order is individual order and when it's a personal mix that it's impossible to sell to other customers. We keep our promise to produce on time and hope our customer also keep the promise.
Q: What's the MOQ for the products?
A: We provide the most flexible order requirement for our customers. Provided stock available, we can accept minimum 1 carton order. But be noted small quantity will lead to higher transportation cost.
Q: Do you provide DIY service?
A: Sure, our website is providing mixing app for customers choose whatever they want. And we also provide design service for project.
Q: Can I have the custom mosaic pattern?
A: Yes, please feel free to send us the photo that you want to make the pattern, then we will make a design draft for you.
Q: Can you send samples to me? Are they for free?
A: Yes, we always offer samples free of charge but only small pieces. However, the courier cost will be on your care. You can appoint your courier company to pick up the samples or we will check the freight cost and you pay to us. Then we arrange here.
Q: What if the tiles are broken during transition?
A: We have done overseas transportation for 15 years and we know exactly how to pack and reinforce the package away from damage. It's not usual to break unless there is accident. If any damage happens, our after-sales will sort out the reasons and ensure you a proper compensation.
Q: Why should I choose your company?
A: Because we are sure we can help to grow your business. We are in this industry for more than 15 years we know the mosaic standard and are aware 
Hot Tags: penny round bronze metal mosaic tiles, China, manufacturers, supplies, factory, wholesale, price, for sale