◆ Natural stone mix with exquisite surface pattern, classic and elegant.
◆ Recommend for indoor space.
◆ Suitable for interior backsplash and wall decoration.

 Product Code

 

Stone Mosaic-Mix face Texture

 Price(For Retail)
 $ 21 / Pcs

 Chip size

 

10X40X7 mm

 Sheet size

 

292 x 298 mm

 Thickness

 7 mm

 Color Family

 Mix

 Tile Material

 Marble

 Commercial/Residential

 Commercial/Residential

 Tile Use

 Indoor and Outdoor

 Tile Features

 Low water absorption, Anti-acid, Anti- alkali, Frost Resistant

 Package

 

10 PCS/CTN, 0.87 SQM/CTN, 13 KGS/CTN

 Production Date

 Around 30 days

 Application

 Terms & Conditions

 Click for more

 Warranty

 Click for more

Notice:
◆ Variations in color, shade, surface texture and size are natural characteristics of all our products and should be expected. 
Images shown are representative, but may not indicate all variations in these characteristics.
◆ Prices as noted are subject to change without notice. Price shown above is retail price, for the distributor price is negotiable. 
Please contact our sales or distributor for current pricing. These prices do not include shipping or applicable sales tax.
◆ If you need more product pictures please kindly contact us.

1. Perfect for interior walls. Natural stone mosaic tiles is perfect for both commercial and residential use. 
2. Using this natural stone tile is an easy way to bring the beauty of outdoors into your home. Each unique tile comes from the earth with its own natural variations. 
3. Deeply loved by designers, Natural stone mosaic tiles is perfectly cut into small chips with its unique natural texture, which has become one of the decorative materials for luxury buildings.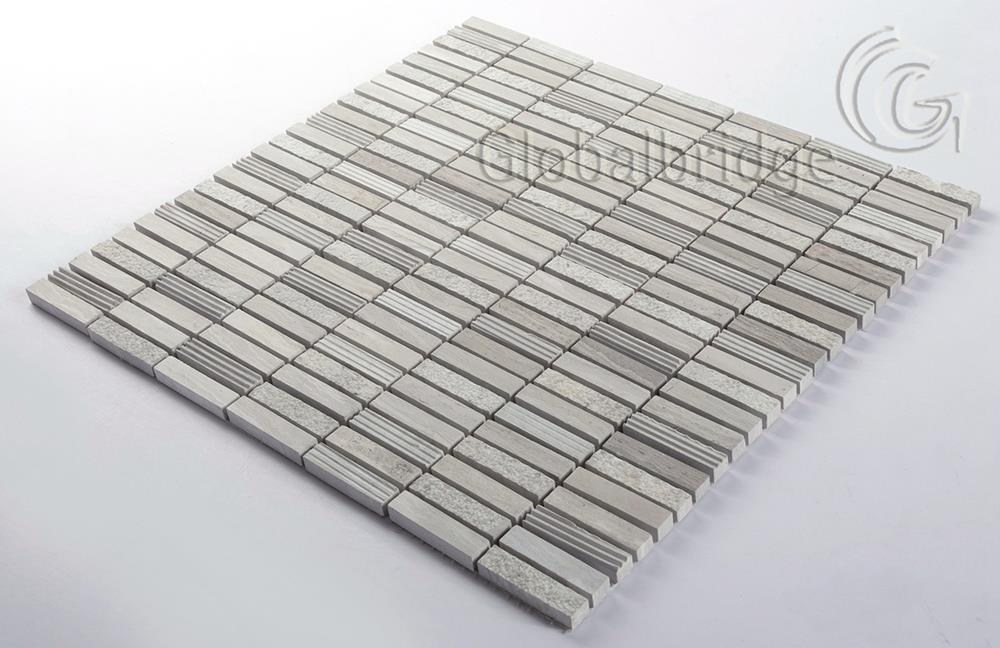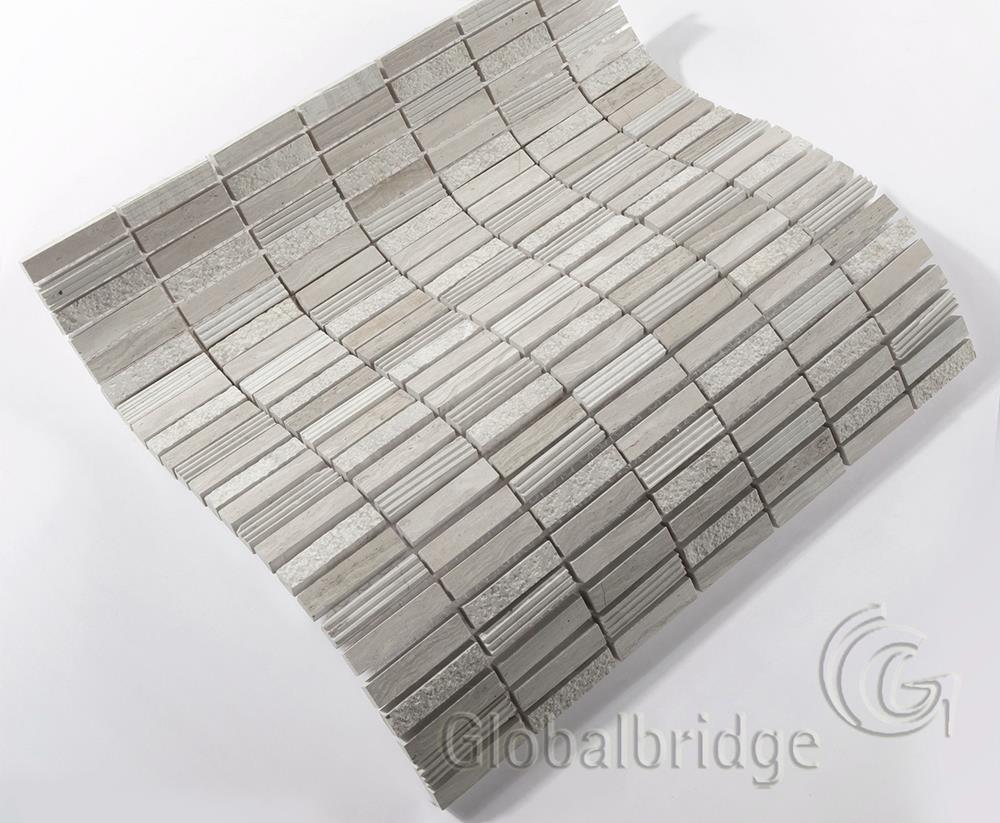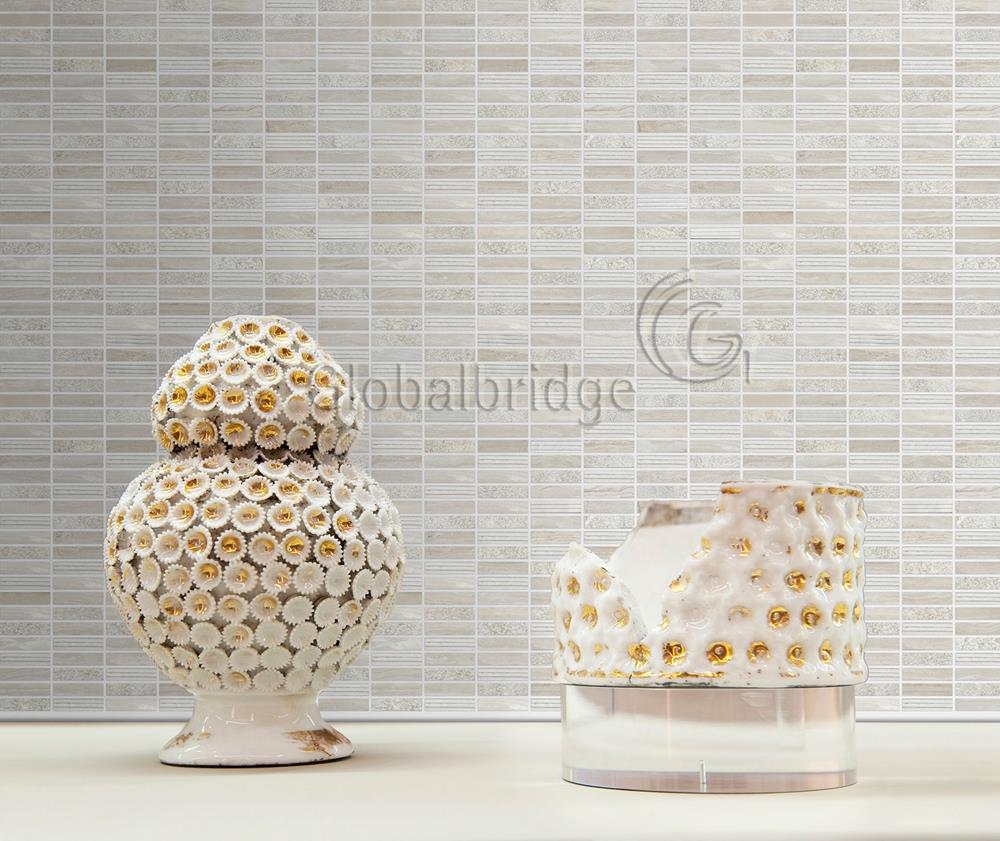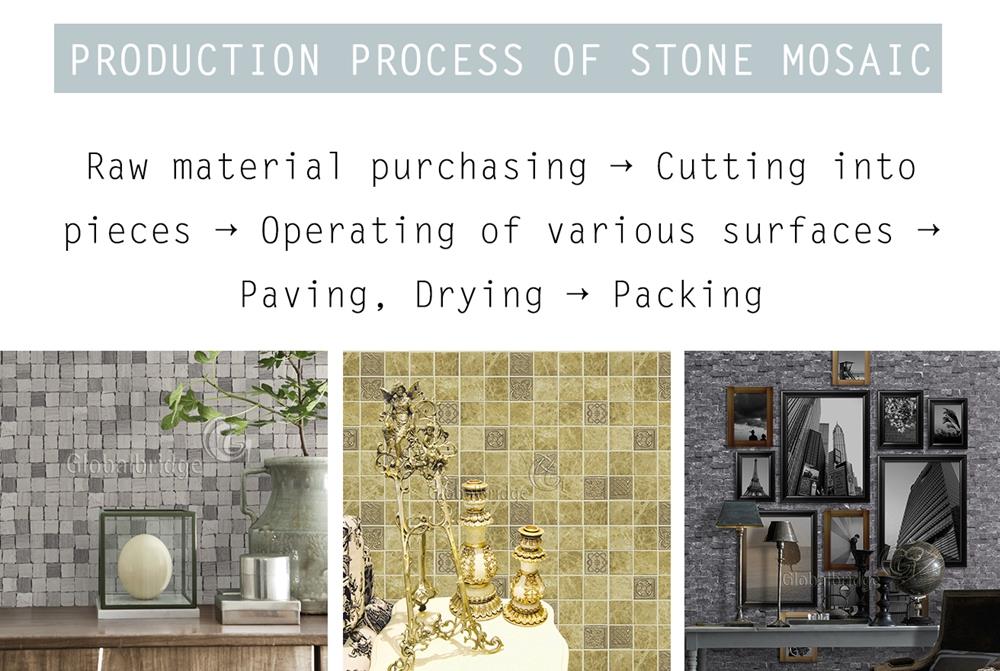 ◆ Stone mosaic is a mosaic made by natural stone cutting, grinding or polishing into various specifications and shapes. It is the ancient and most traditional mosaic type. The earliest mosaic is made of small stone chips.
The stone mosaic has a pure natural texture and a very natural texture. The style is retro, simple and elegant. It is the highest grade in the mosaic family.
According to the different processing techniques, there are matte finish glossy finish and natural finish for stone mosaic . As it has variety of forms, specifications are square, bar, rounded, round and irregular plane, rough surface and so on.
◆ The use of this material to decorate walls or floors not only preserves the natural feel of marble stone, but also enriches the pattern. Natural marble mosaic is made by machine cutting into small particles, pure hand-made, due to the durability of the mosaic material, will not peel off due to environmental time, discoloration, is a high-grade decorative products.
Pure color, elegant and generous, with durability The characteristics of never fade. Widely used in various types of architectural decoration and interior decoration, it is an ideal high-grade decorative product.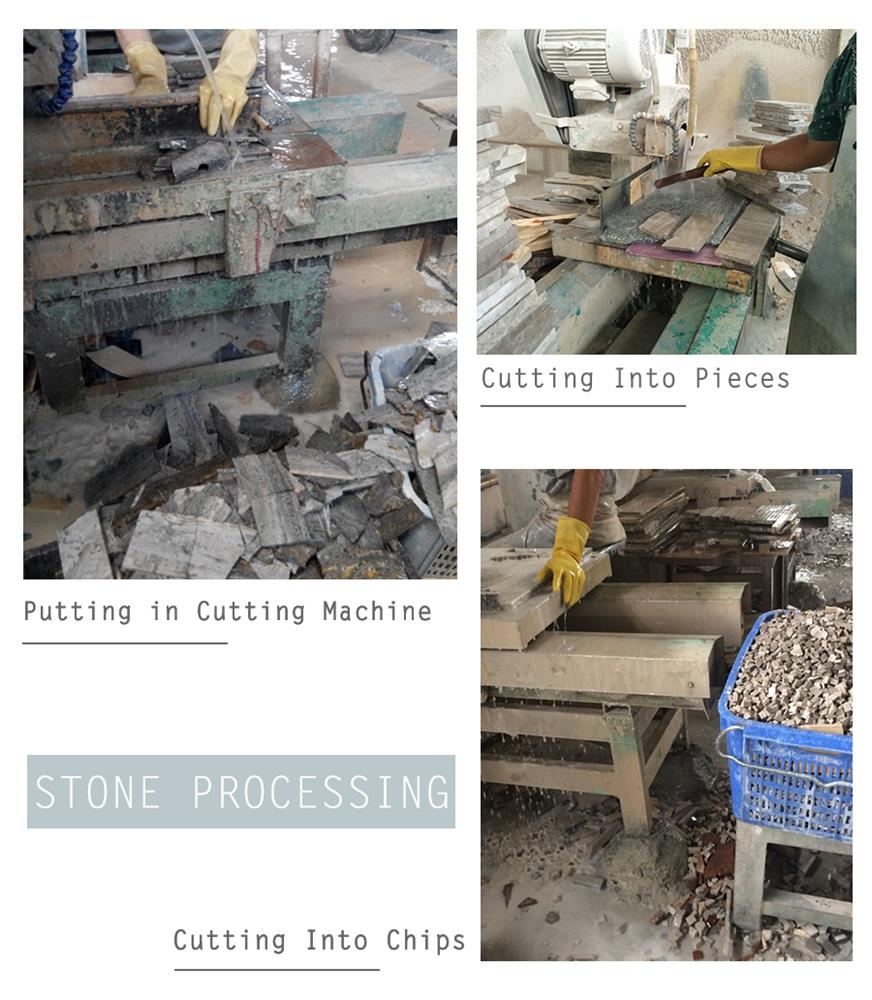 Features of small chips stone mosaic
1. Seamless, tightly structured
2. Patterns can have large changes, can be close to the pattern of glossy mosaic flower pattern
3. There are all smaller size chips and can be processed into the stone pattern
4. There will be color differences between small chips
5. Joint filling will be a little difficult
Nature characteristics
1.cost will be cheaper
2.radioactivity is very small (even smaller than glass, ceramic tiles, etc.), safe to use
3. its material characteristics make it easy to process.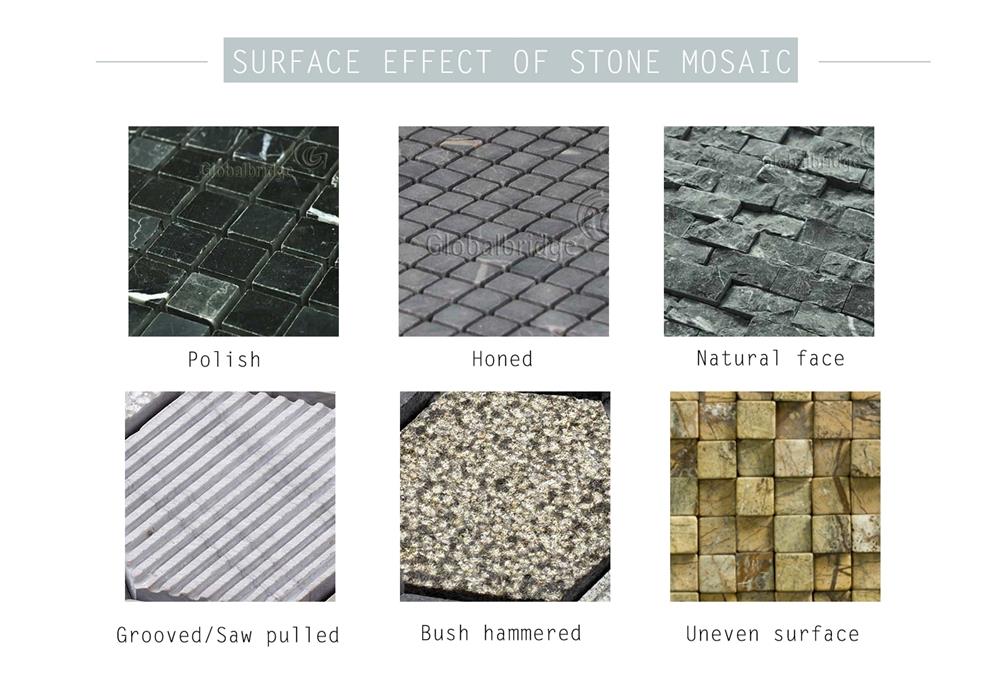 Installation preparation: stone renovation
1. After finishing the flat hard-bottomed base surface, according to the overall layout design, correctly draw or draw auxiliary lines on the base surface to be installed.
To determine the specific installation location.
2. Prepare proper adhesive base material (Tab adhesive or white cement + glue and putty powder are recommended) and caulking agent (recommended use of environmental moisture-proof caulking agent).
3. Peel off liners between each sheet of mosaic sheet, but retain the mesh.
Specific installation steps
◆ Apply adhesive: remove grease, dust and loose material from the working surface; repair surface defects; wet the working surface to no clear water; use a pre-selected, adjusted adhesive to evenly wipe the substrate. A thin layer of the base is then uniformly coated with a thicker layer of adhesive on the bottom layer.
◆ Placement product:
After applying the adhesive with a toothed spatula, the prepared mosaic product can be placed.
◆ Smooth surface:
In order to ensure the horizontal flatness of the installation surface and ensure that each stone block is evenly and firmly bonded, the surface of the product can be beaten with the elastic horizontal wood wrapped with fleece or sponge.
◆ Clean the surface:
In order to keep the mosaic surface clean and do not stick binder or white cement during paving, we recommend arranging helpers to immediately clean the surface with a sponge soaked in water to prevent the binder or white cement from solidifying on the surface of the stone particles.
◆ Stitching preparation:
After filling the product for at least 24 hours, caulking begins. If the jointing base is too dry, it can be properly moistened. Stitching:
After a suitable proportion of the sealant has been prepared, a special caulking tool is used for caulking.
1. Press the filling material into the gap completely, and the depth of the filling seam is confirmed by the designer;
2. The caulking shall be completed within 10 minutes after the completion of the caulking construction, and the caulking agent on the surface of the product shall be removed with a sponge soaked and dried;
3. After the sealant is cured (depending on the weather, about 12 hours), clean the surface of the product again with clean water.
Hot Tags: Natural stone mosaic tiles, China, manufacturers, supplies, factory, wholesale, price, for sale